Holiday pajamas and prints from Munki Munki capture the essence of holiday relaxation. Here are 5 holiday traditions that are way better while you're still in your pajamas!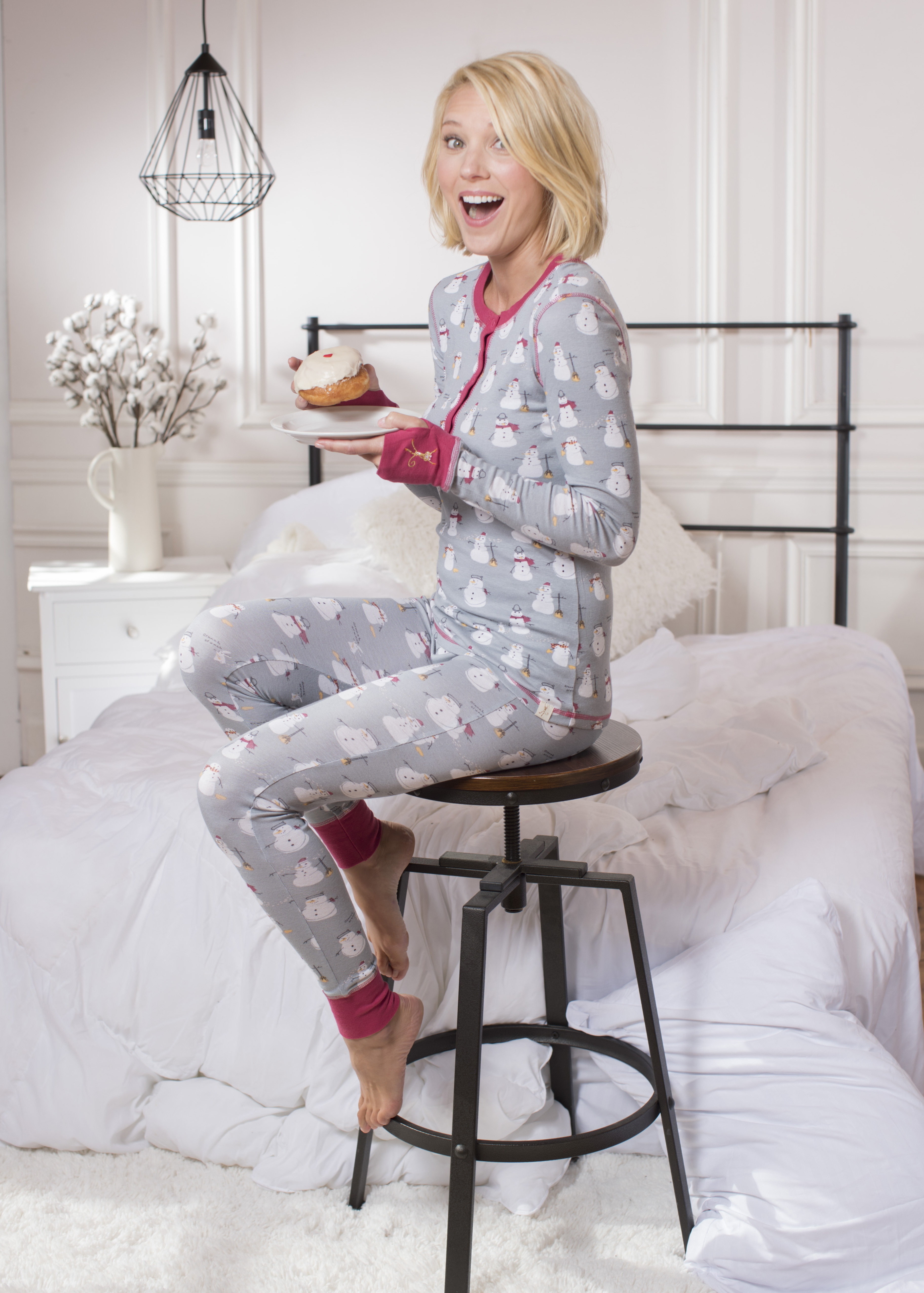 Tradition 1: Baking Cookies + Gingerbread Holiday Pajamas
First things first, cookies! Obviously baking is the first thing on our list because we definitely need to have tasty treats to fuel us through the rest of our favorite holiday traditions. I'm thinking these Red Gingerbread thermal pjs would make the perfect pair to some sweet treats and seasonal accoutrements.
With the weather turning cooler and the days getting shorter, the holidays are the perfect excuse to keep the pjs on a little longer… as if you needed an excuse ;) We are so excited about all our favorite traditions: we love to bake, get out in the snow, decorate the tree, make a signature holiday cocktail (or two), wrap presents, and get cozy in our favorite, festive pajamas! Here are our top 5 favorite holiday traditions and why they're better in pajamas.
Start with a cup of coffee or tea (or maybe hot cocoa) and a pile of family baking recipes (got you covered, here are the best holiday cookie recipies ). I recommend taking a minute to reminisce on your family's baking fails and successes of holidays past makes your goodies taste better. It's true!.
Whether we're baking cookies (like the ones with the Hershey's Kisses in the middle... yum!), brownies, bars, or pies; it's better to bake in comfy pajamas. Why? Well you're going to want to taste test along the way and that might need to a nice little food nap - might as well be ready for your beauty sleep.!
While waiting (perhaps, not so patiently) for the oven timer to ding, start cleaning up the bowls and spoons… remember the "silent night" sleep is coming and you don't want caked on batter to clean up in the morning. Plus, you're only in your pjs, so it's okay if you're a little messy right?
Kick-back in a women's coffee sparkle fleece jogger set or women's coffee sparkle fleece onesie and lounge in style, also, subtly remind your baking helpers that you need a refill...
Tradition 2: Outdoor Creations + Munki Munki Snowman Henly Long John Set
Making a snowman is another one of our favorite holiday traditions! I love sharing my expert snow-packing skills with the kids, and it's always a delight to see what creatures they come up with. It's a great way to bond with the younger kids in the family and make lasting memories with them. Here's some inspiration to get get creative with Frosty's face! Instead of a carrot, maybe you have an extra gourd left over from Thanksgiving. (Kind of looks like Grandpa, doesn't it?) Or put those Mr. Potato Head pieces to good use again and give your new snow buddy a funny face. Don't forget to take a selfie with your Olaf… winter can't last forever.
Holiday traditions are all about adding to your story and sharing it with others, so, be your truest self!
Make sure you dress warm enough to stay out in the cold long enough to put on the finishing touches. We layer our soft long john pajama sets under our winter gear, and we always stay warm. Our new thermals are just the thing for the whole family or try Women's Snowmen Long John holiday pajamas.
Tradition 3: Decorating the Tree + Polar Bear Robes
Decorating the tree is another highlight of the holiday season. Un-boxing all the unique ornaments that were collected by the family over the years is a great way to walk down memory lane with loved ones. (There's that hand print ornament you made in kindergarten! I can't believe mom still has it.) With matching family holiday pajamas, your family is totally set to take a family photo in front of your holiday handy work.
Check out our guide on creative family photo ideas!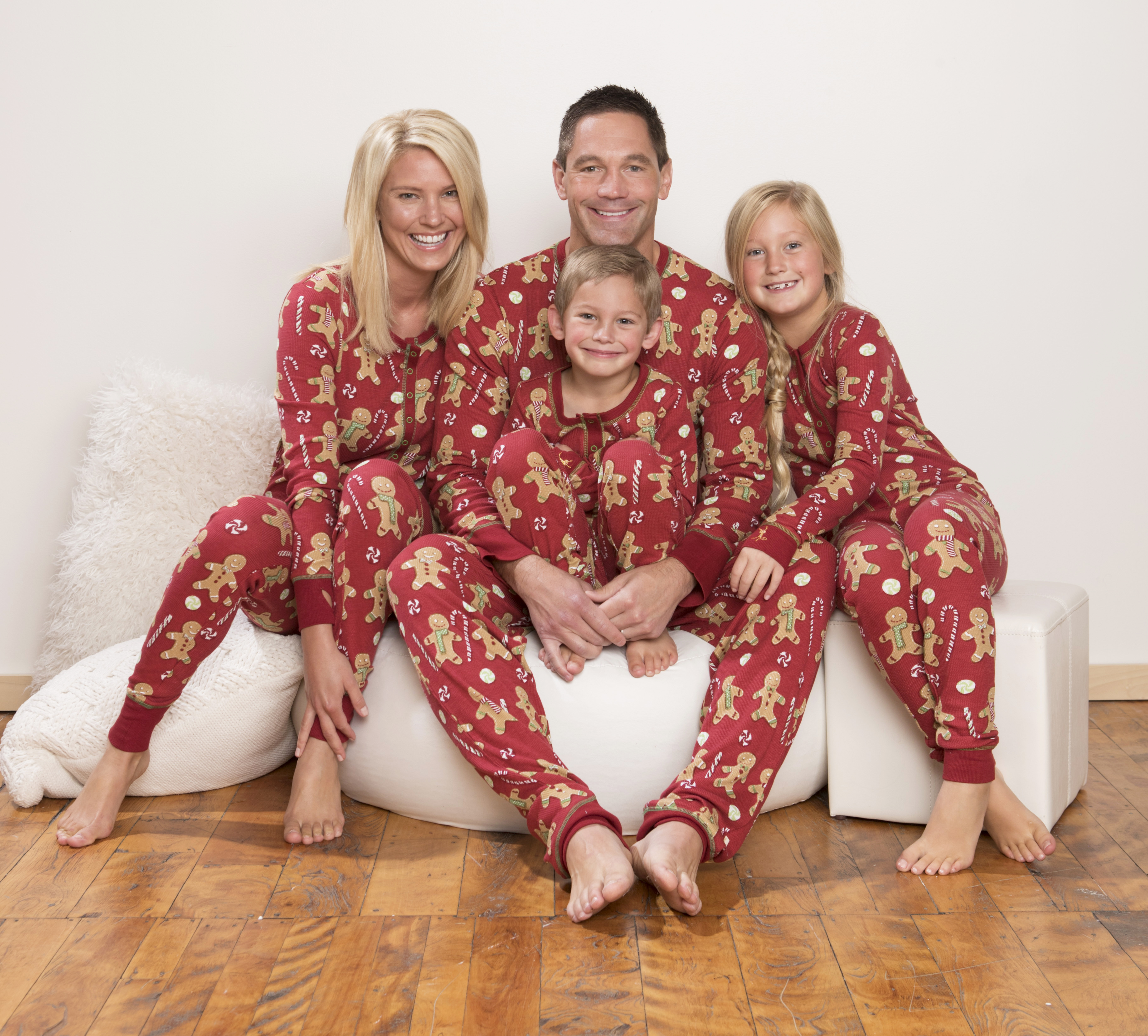 Are you setting off on your own? Maybe this season is your first time decorating your own Christmas tree? I love that so much. Keeping the holiday spirit alive even if it's only for your studio apartment gets major props and I hope you throw a party. Sparkle like a goddess as you get ready with this Constellation Sparkle Fleece Onesie.
Tradition 4: Creating Holiday Cocktails + Classy Champaign Onsies
Speaking of throwing a party! Which I really hope you do because the holidays are all about getting together, let's unpack that. After tree decorating, we tuck the little youngsters into bed. It's honestly pretty hard to do because they look so cute in their little holiday onesies!
Once they're sound asleep dreaming of Santa and probably candy, the rest of us get together to create our annual signature holiday cocktail. Everyone has their favorite: Mom likes minty Grasshoppers, Grandpa does a holiday take on his signature Manhattan, I love this Orange & Pomegranate Prosecco Cocktail.
Kick it up a notch with our women's cocktail or champagne flannel pajamas or our Champagne Nightshirt to make the tradition even more festive!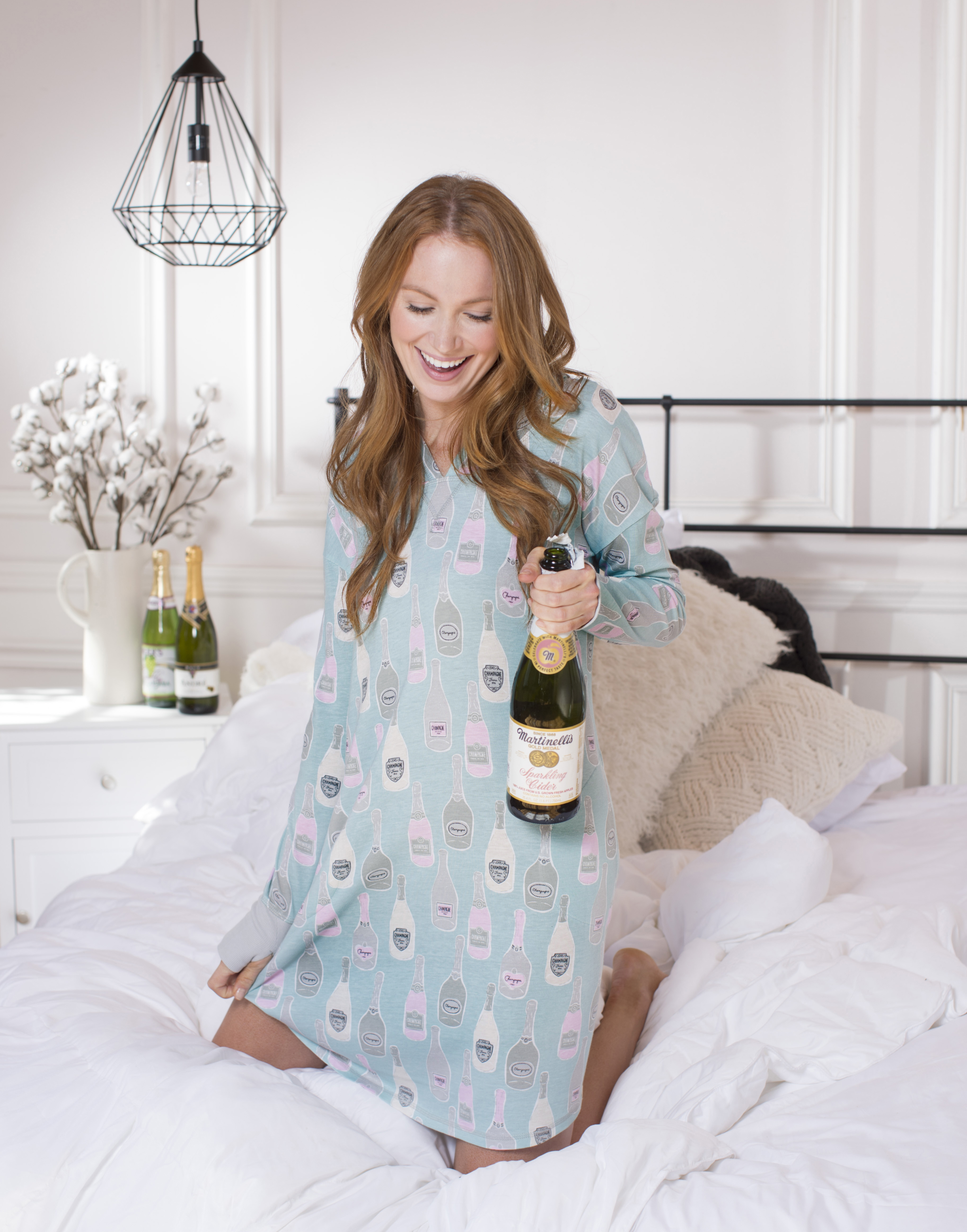 Tradition 5: Wrapping the Gifts + Cozy Fleece
Last, but not least, we get to wrap the gifts! After spending countless hours finding the perfect present and choosing the cutest wrapping paper, it's time to put on cozy fleece pajamas, pop in our favorite holiday movie, (A Charlie Brown Christmas, anyone?) and start wrapping! With bows, ribbons, and presents strewn about the room, it's great to have a onesie with a pocket for the important stuff, like the tape and the pen that always seem to go missing!
Wrap yourself up in a hooded fleece onesie with the perfect sized pocket. After you've finished wrapping, you can count the sheep on pajamas to help you drift off into a refreshing night's sleep.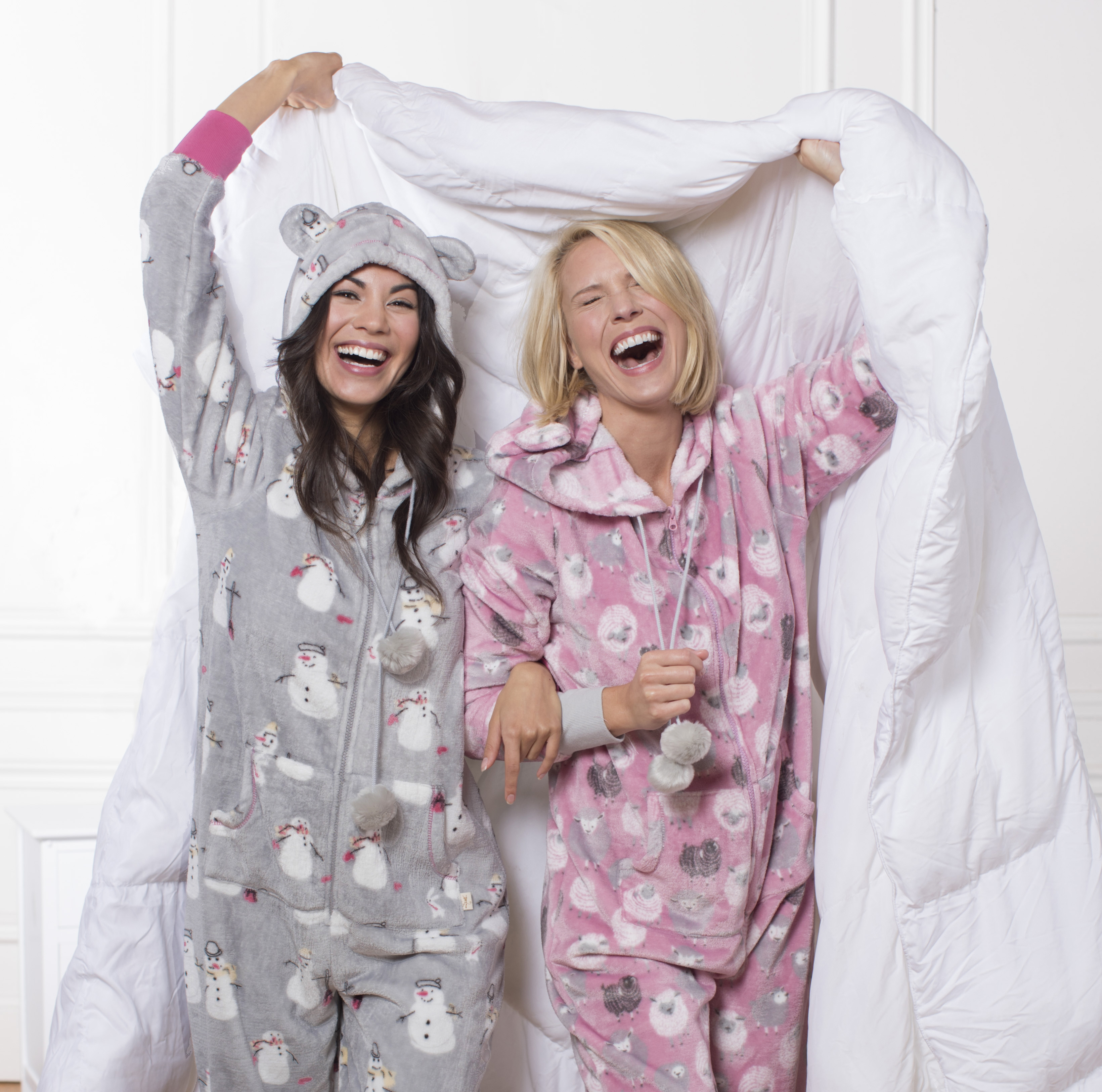 Being with loved ones during the holiday season is really what makes these traditions so special. We love to commemorate these significant moments with cozy and stylish pajamas that make everyone feel comfortable and included in the festivities. Check out our Home for the Holidays collection to find the perfect pajamas for your family's holiday traditions.